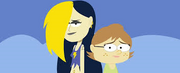 Kassandra: Goddess of Awesome is a series about two girls named Helen and Kassandra.
Season 1: 2013-present
Episode 1: Arrivals: When Helen finds out she's late for school, Kassandra springs into action! Upload date: March 21st, 2013, Written by: Alex Dudley
Episode 2: Foodfights: It doesnt matter who started the foodfight, Kassandra will be there to finish it! Upload date: June 17th, 2013, Written by: Alex Dudley
Voice cast
Edit
Brittany Lauda as Kassandra and Jenny
Emily Koch as Helen
Ad blocker interference detected!
Wikia is a free-to-use site that makes money from advertising. We have a modified experience for viewers using ad blockers

Wikia is not accessible if you've made further modifications. Remove the custom ad blocker rule(s) and the page will load as expected.